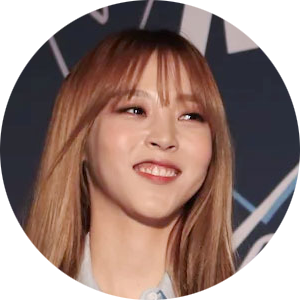 | | |
| --- | --- |
| Name | Moon Byulyi (문별이) alias Moonbyul (문별) |
| Position | Main Rapper / Vocalist |
| Birthday | 22. December 1992 |
| Nationality | Korean |
| Zodiac Sign | Capricorn / Monkey |
| Height | 163 - 165 cm |
| Weight | 45 kg |
| Blood Type | B |
Life
Moonbyul was born in Bucheon, which lies directly in between Seoul and Incheon. She has two younger sisters called Seulgi and Yesol. She also owns a dog with the name Daebakie.
Career
Moonbyul is known for her amazing rap skills. However, she auditioned for a vocalist position originally and only changed into a rapper position later. Her story was also featured in the show "Idol Drama Operation Team". Seulgi (Red Velvet), Sohee (Produce 101), D.ana (Sonamoo), Yooa (Oh My Girl), Sujeong (Lovelyz) and Somi (former I.O.I member) were also participating in this project and they all formed the girl group called Girls Next Door releasing the song "Deep blue eyes" in July of 2017.
Moonbyul wrote many of her rap parts by herself, especially for Mamamoo's legendary performances on "Immortal Songs". But you can also listen to her own rap lyrics in the songs "Piano Man" and "Mr. Ambiguous". She even created the choreography for the latter one.
Moonbyul mentioned that she would like to collaborate with Verbal Jint in the future.
Idol friends
Moonbyul is part of the Idols' 1992 liners. She is close friends with the other idols of this club, who are Hani (EXID), Jin (BTS), Baro (B1A4), Ken (VIXX) und Sandeul (B1A4).
Just like her real little sister, Red Velvet's Seulgi became a close friend with Moonbyul. They even kept working together after finishing their "Idol Drama Operation Team" project and released the song "Selfish".
Trivia
After debuting Moonbyul often got compared to Xiumin (EXO) and Minhyuk (BTOB) for looking alike.
When featuring in the Show "Battle Trip" with her fellow member Solar it became obvious that both idols are not good with roller coasters as they are scared of heights.
Before the members moved into their own places, Moonbyul shared a room with Wheein.
We love Moonbyul in "Wind Flower".