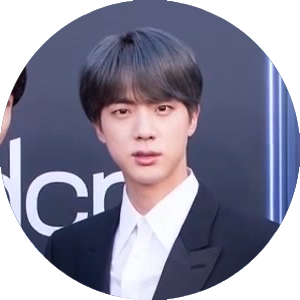 | | |
| --- | --- |
| Name | Kim Seokjin (김석진) alias Jin (진) |
| Position | Vocalist / Visual |
| Birthday | 04. December 1992 |
| Nationality | Korean |
| Zodiac Sign | Sagittarius / Monkey |
| Height | 1.79 m |
| Weight | 63 kg |
| Blood Type | O |
Life
Jin was born in Gwacheon and has an older brother called Seokjoong. It is known that his family is wealthy and his dad is the CEO of a company. Originally Jin wanted to work at his father's company.
Jin studied film at the Konkuk University and trained to become an actor before he was casted in a street casting. He was also approached by a casting agent for SM Entertainment but didn't believe the person to be an official agent.
Hobbies
Jin loves to cook and can eat very well. He even has his own mukbang show called "Eat Jin" (a show, in which he sits in front of a camera eating and talking about the food – a current trend in Korea) .
He also likes to play Mario games and collects Mario toys. Jin tells many dad jokes. His favorite color is blue but used to be pink and he also likes the Disney princesses.
Jin is part of a group of gaming idols. Their crew name is "We are the strongest idols". Youngjae (B.A.P.), Eunkwang (BTOB), Ken (VIXX) and Park Ji Hoon (Wanna One) are the other members.
Personality
Jin is proud to be good looking and was chosen as the best-looking band member with the longest legs and the broadest shoulders of BTS. He also received nicknames such as "worldwide handsome" because of his looks.
The members describe him as funny, humble and caring.
If Jin is holding eye contact with someone for longer than three seconds, he has to blink automatically.
Jin as an Artist
Jin has two solo songs so far. He sang "Awake" on the album "Wings" and "Epiphany" on the album "Love Yourself: Answer".
As part of the "92liners' Club" (idols, who were born in 1992), he is close friends with Hani (EXID), Moonbyul (Mamamoo), Baro (B1A4), Ken (VIXX) and Sandeul (B1A4).
Jin created an alpaca character with a red scarf for BT21 called "RJ". It seems like he chose an alpaca because he really likes alpacas.
We love Jin and his sweet voice in his Solo "Epiphany"!