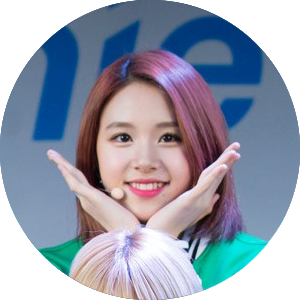 | | |
| --- | --- |
| Name | Son Chaeyoung (손채영) |
| Position | Main Rapper |
| Birthday | 23. April 1999 |
| Nationality | Korean |
| Zodiac Sign | Taurus / Rabbit |
| Height | 158 - 163 cm |
| Weight | 48 kg |
| Blood Type | B |
Life
Chaeyoung was born in Seoul, South Korea, and was raised by her Catholic family living with her grandparents. She has a younger brother, who wants to have a modeling career. His name is Jeonghun.
Chaeyoung has an English name as well, which is Katarina.
Chaeyoung is currently enrolled in Hanlim Multi Arts School and has been under JYP Entertainment since 2012 when she passed her audition and became a trainee.
Chaeyoung and Nayeon did also learn ballet before their debut but didn't practice it for long enough to have gained a lot of skills.
Personality
Chaeyoung loves to draw. She also likes the Disney Princesses. Maybe we will see her fan art one day. Another skill of her is to imitate certain sounds like a duck or a window.
It is said, that she is the member, who sleeps the most, often skipping her dinner as well. But she likes to eat, especially vegetables. She hates beans for some reason though.
Chaeyoung as Artist
Chaeyoung has plenty of idol friends. Her best friend is Somi, who was also a trainee under JYP Entertainment and participated in the show "Sixteen" as well but was unfortunately not chosen to become a member of Twice. You can see them together in Somi's mini series on YouTube having brunch together,
Chaeyoung met other idols during her school life as well. She became friends with Yeoreum (Cosmic Girls) during middle school and with Jinsol (April) during high school. They probably connected due to similar hardships of combining their education and careers.
Fun fact: Chaeyoung is close to Rosé (Black Pink), whose real name is also Chaeyoung.
She doesn't only have a lot of friends but she is also a great artist herself. She does like to write her own lyrics and did write some of her rap parts. Chaeyoung also wrote "Eye Eye Eyes" with her bandmate Jihyo.
Chaeyoung likes Taeyeon's (Girls Generation) "If" very much and enjoys to sing it. However, she still feels shy to sing in front of her members.
One of her talents is imitating Donald Duck, which she showed on several occasions, e.g. at the show "Weekly Idol".
Chaeyoung appeared in her seniors MVs like her fellow members as well. She was seen in Miss A's "Only you" and Got7's "Stop stop it".
We love Chaeyoung in the MV for "Fancy"!