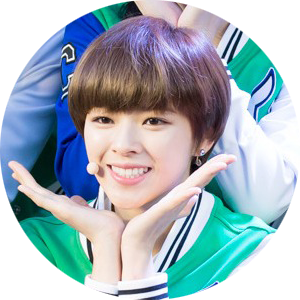 | | |
| --- | --- |
| Name | Yoo Jeongyeon (유정연) / Birthname: Yoo Kyungwan (유경완) |
| Position | Lead Vocalist |
| Birthday | 1. November 1996 |
| Nationality | Korean |
| Zodiac Sign | Scorpio / Rat |
| Height | 169 cm |
| Weight | 49 kg |
| Blood Type | O |
Life
Jeongyeon was born in Seoul. Her birth name is Yoo Kyungwan, but she changed it into Yoo Jeongyeon legally due to bullying for a male-sounding name. Some of her family members are also famous. She has two older sisters, of which one is the famous actress Gong Seungyeon, who also appeared in the popular show "We got married". Their father is a popular chef, who is specialized in Korean traditional cuisine.
Jeongyeon's sister was a trainee herself and didn't want the same lifestyle for her in the beginning but is very supportive now. She also came to support her during the show "Sixteen".
Jeongyeon has two dogs – the poodle Nanan and the pomeranian Bbosongie.
Jeongyeon graduated from Apgujeong High School, which is in Seoul's district called Gangnam.
Career
Jeongyeon originally wanted to become a model but changed her mind later on. She also worked part-time jobs before debuting, e.g. in a bakery and hotel.
When Jeongyeon auditioned for JYP when she was younger she failed at first, but made it in the sixth JYP's Entertainment Open Audition in 2010. She was even chosen by SM Entertainment, but decided to join JYP. Jeongyeon was supposed to debut in a group called 6mix. Nayeon was in the same group, but they never debuted and hence disbanded. Therefore Jongyeon was a trainee for five years before debuting in 2015 as a Twice member.
Personality
Jeongyeon is very strict to herself. She is also very self-disciplined and has an optimistic outlook on things, which probably were huge factors for her to enduring being a trainee for such a long time. It is also known that she gets nervous on stage.
Jeongyeon likes Nanoblocks and Lego.
She has a laid-back character and is not into girly fashion. Most of the time she wears oversized shirts and jeans. Meanwhile, she enjoys cleaning and therefore is in the duty of cleaning in the dorm.
Jeongyeon had short hair for a long time (ever since debut) but promised to let it grow as a goal for the year 2017.
Jeongyeon as Artist
She knows how to play some instruments, such as the Saxophone and the Guitar.
Due to her long trainee-life, she appeared in many productions before debut. She was part of the MV for "Girls Girls Girls" by Got7. She appeared in Miss A's "Only You" and her boss's production "Fire" (J.Y.P).
We love Jeongyeon in "Knock Knock"!