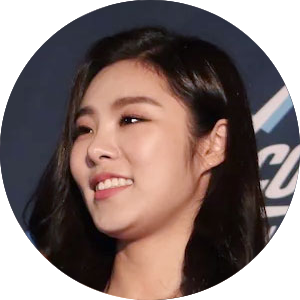 | | |
| --- | --- |
| Name | Jung Wheein (정휘인) |
| Position | Lead Vocalist / Lead Dancer |
| Birthday | 17. April 1995 |
| Nationality | Korean |
| Zodiac Sign | Aries / Pig |
| Height | 159 - 162 cm |
| Weight | 43 kg |
| Blood Type | B |
Life
Wheein was born in Jeonju and attended Wonkwang Information Arts High School. Even though she is an only child, she must feel like having Hwasa as a sister knowing her since middle school.
Wheein has several nicknames, such as Decal, Jung Wheerun, Wheepup.
Wheein was a trainee for MBK Entertainment before she joined Rainbow Bridge World Entertainment.
Personality
Even though the Mamamoo members always appear to be very excited and outgoing, Wheein is very shy and needs a lot of time to open up to new people. She talked about it and showed her shy image during the recording of the show "Secret Unnie", in which she met Hyoyeon (Girls Generation).
Wheein likes to eat snacks and calls herself a snack queen. She also enjoys watching Mukbang shows, in which people film themselves eating and talking to the camera.
She also likes to draw and owns a cat named Kkomo.
Wheein as an Artist
Wheein was featured in many songs like "Under Age's Song" by Phantom, "Hey!" by Sandeul (B1A4) and "Ex Girl" by Monsta X.
She also appeared in the Show "King of Masked Singer" as Half Moon.
Wheein released her own solo song "Easy" in 2018, which featured the rapper Sik-K.
We love Wheein in the MV for "Décalcomanie".