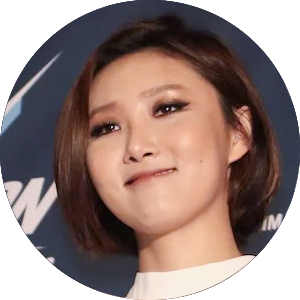 | | |
| --- | --- |
| Name | Ahn Hyejin (안혜진) alias Hwasa (화사) |
| Position | Lead Vocalist / Lead Rapper / Maknae |
| Birthday | July 23, 1995 |
| Nationality | Korean |
| Zodiac Sign | Leo / Pig |
| Height | 160 - 162 cm |
| Weight | 44 kg |
| Blood Type | A |
Life
Hwasa was born in Jeonju, which lies in the mid-south of South Korea (approximately 230 km from the capital Seoul). She is not only the Maknae (youngest) in the group but also in her family as she has two older sisters. Hwasa graduated from Wonkwang Information Arts High School. Her group member Wheein must feel almost like a sister as well since they already met each other in middle school and became friends back then.
Because her family is far away, she is living alone for several years now and was also featured in the MBC show "I live alone". Having allergies, she doesn't have any pets either. But she refers to a toy lion when the other members are speaking about their pets.
Career
Hwasa wasn't only active as a Mamamoo member but recorded guide vocals for the girl group 4Minute before. She also showed her talent in songwriting and composing for Mamamoo's albums. On their mini-album "Hello" she wrote and composed "My heart/ I do me". And the album "Pink Funky" featured her composed song "Freakin Shoes". She also released a collaboration song ("Don't give it to me") with rapper Loco in May 2018, which was the result of them being cast of the show "Hyena on the Keyboard". The song became extremely popular, leading to a nomination for the Best Ballad Song Award and winning the Hot Trend Award at 2018's Melon Music Awards.
Hwasa's first solo song "Twit" was released in February 2019. She did participate in composing and writing, The single reached number 1 on several Korean charts.
Personality
Hwasa likes to cook and enjoys listening to old Jazz music. She said her role model is Rihanna, which fits Hwasa's image. She thinks of herself to be very sexy and even jokingly said once that she is scared to turn everything into a sexy style if she is involved.
We love Hwasa in "Yes I am".