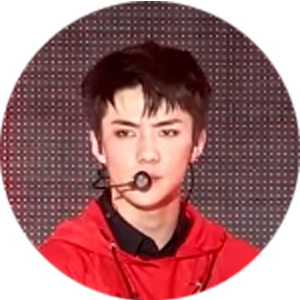 | | |
| --- | --- |
| Name | Oh Sehun (오세훈) |
| Position | Lead Dancer / Rapper / Vocalist / Maknae |
| Birthday | 12. April 1994 |
| Nationality | Korean |
| Zodiac Sign | Aries / Dog |
| Height | 183 cm |
| Weight | 64 kg |
| Blood Type | O |
Life
Sehun was born in Seoul, South Korea. He has an older brother and lived with him and his parents. He attended Seoul Arts High School like many other idols.
Sehun was an ulzzang (which stands for pretty face) when he was younger and was scouted on the streets when he was only 12 years old. He then made it into SM Entertainment after four auditions.
Personality and Hobbies
Sehun is shy in the beginning but warms up over time. He is quite a bit mischievous but also very sincere and considerate – especially of his fellow members. He said he prays fort hem every night. He also said that his biggest frustration is to worry about the Exo members.
Sehun claims he doesn't take overflowing criticism from too many persons at the same time well since he is blood type O.
Sehun received the nicknames "Senshine" and "White Skin" due to his fair skin.
Sehun used to wear braces and later exchanged them with retainers, which might be the reason why he has difficulties to pronounce the letter "S". He also has the habit of sticking out his tongue.
Sehun adores Miranda Kerr and was very happy when she followed him back on Instagram.
Sehun loves listening to music, especially to Hip Hop, acting and dancing. When he dances he tries to focus on the emotions more than on the dancing techniques.
Sehun and other idols
Sehun is very close to Suho, whom he knows since 2007. Those two members also used to share a room.
Sehun is also close to his label's mate Donghee (Super Junior) and used to buy food for his senior group f(x), which was on a strict diet and asked him to sneak in food fort hem.
Sehun is in an idols' friend circle called BYH48. Idols like Mono (Winner), P.O. (Block B), Byun Yohan are also part of this circle.
Sehun as an Artist
Sehun worked on his acting career. You can see him as the lead role in "Dokgo Rewind" (2018, web film). He is a regular cast in the variety show "Busted" and also acted in "To the Beautiful You" (2012, drama – cameo), "Welcome to the Royal Villa" (2013, drama – cameo), "Exo Next Door" (2015, web drama) and "Secret Queen Makers" (2018, drama).
We love Sehun for his rap in "Tempo"!