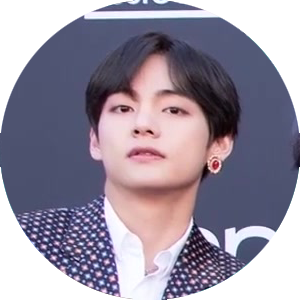 | | |
| --- | --- |
| Name | Kim Taehyung (김태형) alias V (뷔) |
| Position | Vocalist |
| Birthday | 30. December 1995 |
| Nationality | Korean |
| Zodiac Sign | Sagittarius / Pig |
| Height | 1.78 m |
| Weight | 62 kg |
| Blood Type | AB |
Life
V was born in Daegu but moved to Geochang with his family, where they lived on a farm until he moved to Seoul. His family is poor and he has a younger brother and a younger sister. V said that his dad is his role model and he hopes to become an understanding dad like his own.
He graduated from Korea Art School and is currently enrolled in the Global Cyber University. RM said V is the second most fluent English speaker of the members, while he is completely fluent in Japanese.
Things V likes
V loves his computer, dolls and clothes like shoes and accessories (especially from Gucci). He likes to collect unique things.
V doesn't enjoy to drink coffee, instead, he likes to drink hot cocoa. He also cannot drink much alcohol before getting too drunk.
V also likes classical art. On the one hand, he likes Van Gogh's paintings. On the other hand, he listens to classical music before sleeping.
V has a Pomerian Teacup named Yeontan.
Personality
He is said to have a 4D personality, which means he is perceiving things a bit differently and has unique ideas (in a good way).
V has the nickname 'Blank Tae' because he is seen expressionless often. On contrary, he is one of the mood makers in BTS.
V and other Korean Stars
Fans told him he looks like Baekhyun (Exo) and Daehyun (B.A.P.). He answered that Baekhyun is his mother and Daehyun his father. He is also friends with Park Bogum (actor), Sungjae (BTOB), Mark (Got7), Minho (Shinee) and Kim Minjae (actor).
V likes Kyunghoon, who is one of the fixed casts of the Korean show "Knowing Brother".
V as an Artist
V was acting in the movie "Hwarang", for which he also participated in part two of the OST by singing the song "It's definitely you" with Jin.
V contributed "Tata" to the BT21 project, which is an alien, who came to the earth searching friends and band members to become to "universtar".
V released his Solo in 2018. It's called "Singularity".
We love V's Solo and his showcased artistry in "Singularity"!