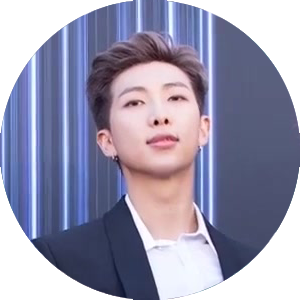 | | |
| --- | --- |
| Name | Kim Namjoon (김남준) alias Rap Monster (RM; 랩몬스터) |
| Position | Main Rapper / Leader |
| Birthday | 12. September 1994 |
| Nationality | Korean |
| Zodiac Sign | Virgo / Dog |
| Height | 1.81 m |
| Weight | 67 kg |
| Blood Type | A |
Life
RM was born in Ilsan and has a younger sister. He attended the Apgujeong High School. He majored in Electric engineering (Bachelor) at the Global Cyber University, where he is currently still enrolled. Furthermore, he studied abroad in New Zealand for six months and speaks English fluently. It is said that his TOEIC results were 900 points, which is a very high score. He is known for his intelligence as his IQ is 148. His English proficiency also comes in handy whenever BTS is being interviewed in the USA, helping his team mates as the true leader he is.
RM was the first member of BTS. Even before his debut he was rapping in the underground scene and released a song with Zico (Block B). Before debuting there were a lot of changes of possible members for BTS. However, RM is the only member from the original line-up.
Hobbies
RM likes to surf on the internet, is interested in photography, likes to take strolls in the park, riding a bike and is good at ice-skating. He also values clothes.
Nicknames
He received the nickname God of Destruction because he destroys a lot of things accidentally.
He said about himself 'My name is Rap Monster, not Dance Monster' talking about his great rapping skills while he thinks he needs to improve his dancing. The group members like to call him dad of BTS because he takes great care of them.
RM as Artist
RM already started writing his own lyrics in school. He now has composed over 100 songs. He also wrote the song "Hook" with Jung Hunchul (a former member) for Brave Brothers and YG Entertainment. When he didn't feel like having any dreams during his school life, he wrote the lyrics for "No more Dream".
RM released his first mixtape called "RM" in 2015. He followed it up with a second mixtape called "Mono" in 2018. There were three MVs for the songs "Moonchild", "Forever Rain" and "Seoul" of the mixtape.
RM drew a koala character for the project BT21. It is called Koya and just looks like sleeping while thinking deeply.
We love RM showcasing his amazing rap in "Persona"!