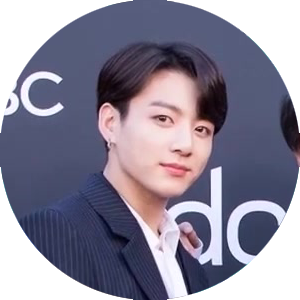 | | |
| --- | --- |
| Name | Jeon Jungkook (전정국) |
| Position | Main Vocalist / Lead Dancer / Maknae |
| Birthday | 01. September 1997 |
| Nationality | Korean |
| Zodiac Sign | Virgo / Ox |
| Height | 1.78 m |
| Weight | 66 kg |
| Blood Type | A |
Life
Jungkook was born in Busan and has an older brother called Junghyun.
Jungkook went to the Super Star K Audition during middle school but didn't make it to the next round. On his way home he was addressed by several agents. After listening to RM's rapping skills he decided to sign with Big Hit Entertainment. He was only 12 years old then.
He majored at the Seoul School of Performing Arts in 2017.
Things Jungkook likes
He likes to read comics, play video games (e.g. overwatch) and draws. He also likes video editing and photography.
Jungkook is IU's fanboy and uses her song as a ringtone for his phone.
Jungkook and Sports
Jungkook is very athletic. He likes to bowl, plays football and handball. Furthermore, he has a black belt in Taekwondo. He also wanted to become a professional badminton player before.
Jungkook as Artist
Jungkook has to solo songs as well. He published "Begin" on their album "Wings". This song is for his members, who helped him become the person he is now. On the album "Love Yourself: Wonder" he sung "Euphoria".Jungkook also wrote the lyrics for and produced the song "Magic Shop". He is into writing lyrics more and more nowadays.
Jungkook also has his own studio called "Golden Closet". This name is a mix of his nickname "Golden Maknae" and his old room, which was a closet, where you could walk in. He recorded many cover songs there, sometimes featuring other members.
Jungkook proved his drawing skills for the project BT21. He drew a pink bunny named "Cooky". This bunny aspires to have a lot of muscles.
Jungkook also belongs to a group of idols, who were all born in the year 1997. The club's name is "The Passengers of 1997". Bambam (GOT7), Yugyeom (GOT7), DK (Seventeen), Mingyu (Seventeen), The8 (Seventeen) and Jaehyun (NCT) are also members of this group. Unfortunately, he got involved in a scandal in 2020 when allegedly meeting some of those friends in Korean clubs during social distancing.
We love Jungkook in "On"!