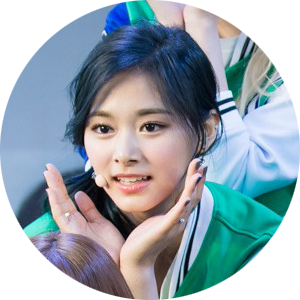 | | |
| --- | --- |
| Name | Tzuyu (쯔위) / Taiwanese Name: Chou Tzuyu (周子瑜) |
| Position | Lead Dancer, Vocalist, Visual, Maknae |
| Birthday | 14. June 1999 |
| Nationality | Taiwanese |
| Zodiac Sign | Gemini / Rabbit |
| Height | 170 - 172 cm |
| Weight | 48 kg |
| Blood Type | A |
Life
Tzuyu was born in the city Tainan in Taiwan. She has an older brother and her family owns a dog. Her aunt named the dog like the brand Gucci. Her mother is said to have earned a lot of money from investing in various fields in Taiwan. She now owns her own Café.
Tzuyu attends Hanlim Multi Arts School in Seoul, which is known for being attended by many idols, such as Yeri from Red Velvet, Jooe and Nancy from Momoland or Eunbin from CLC.
Career
Tzuyu was discovered in Tainan while attending the MUSE Performing Arts Workshop in 2012. Later that year she moved to South Korea to be a trainee under JYP Entertainment. She was not casted for the show "Sixteen" but got lucky and replaced former participant Lena, who left.
Tzuyu was seen in the MVs for "Stop stop it" by Got7 and "Only You" by Miss A before her debut.
She went virals for a short clip, which shows her participating at shooting arrows during the show "Idol Athletics Championships". She accidentally flicked her hair while releasing the arrow and got famous for the beautiful view.
Personality
Tzuyu is not speaking very much during shows and is also known to not cry easily in front of other people. She doesn't like to be called beautiful. Instead of being called pretty, she wants to hear that she is talented.
She sleeps early and wakes up the earliest out of the members. She likes the character Yoda from "Star Wars" very much and can impersonate him as well. She generally enjoys watching performances and eating good food. Her favorite drink is chocolate milk.
Tzuyu as Artist
Tzuyu admires Beyonce and Sistar (especially Hyorin) as her favorite type of music is Pop. She also likes to sing songs from Disney movies.
She also has some idol friends like Rose from Black Pink and Elkie from CLC.
We love Tzuyu in "Dance the night away"!