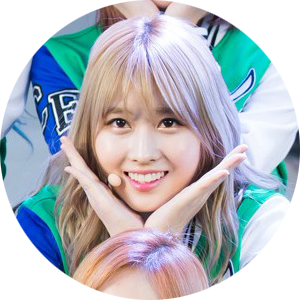 | | |
| --- | --- |
| Name | Momo (모모) / Japanese Name: Hirai Momo (平井 もも) |
| Position | Main Dancer / Vocalist / Rapper |
| Birthday | 9. November 1996 |
| Nationality | Japanese |
| Zodiac Sign | Scorpio / Rat |
| Height | 164 - 167 cm |
| Weight | 48 kg |
| Blood Type | A |
Life
Momo was born in Kyoto (Japan). Her name is the Japanese word for "peach". She has an older sister, who is called Hanna and three dogs, even though Momo is allergic to dogs. Their names are Petco, Pudding and Lucky.
Momo started dancing at the age of three. Her older sister was dancing as well and was the reason why Momo wanted to dance as well. Momo said she is the most confident dancing to urban or hip hop.
Momo is dating Kim Heechul (Super Junior).
Career
Momo was scouted by JYP Entertainment's agents because of a video showing Momo and her sister dancing. They both officially auditioned in 2012 but only Momo was chosen.
Momo was also part of the show "Sixteen". However, she got eliminated in episode six. She later mentioned that she is scared of survival shows now because she got eliminated in "Sixteen". JYP decided to add her to the final group though because of her amazing dancing skills.
Fun Fact: Momo was trending on Twitter, because she revealed her forhead for the first time in the Teaser for "Feel Special". She was beating the top event of the day: Apple releasing a new product.
Personality
Momo earned herself the nicknames dancing machine and eating machine. She obviously is a great dancer but she also loves to eat. Her favorit meal is Jokbal, a Korean dish made of pig and soy sauce. She can't drink milk though and doesn't like any kinds of melon.
Momo is scared of heights and doesn't like to ride roller coasters for that reason.
Momo was chosen as the cutest member by her members themselves. She likes to cling to them as well.
Momo as Artist
Momo appeared in many MVs like her fellow members. You can see her in Got7's MV for "Stop stop it", the Japanese version of Junho's MV for "Feel", Miss A's "Only You", the Japanese version of Wooyoung's "Rose" and Heechul's and Min Kyunghoon's Mv for "Sweet Dream".
Momo was part of the show called "Hit the stage" showcasing her dancing skills. You can see her in episodes one to four. She was competing against Hyoyeon (Girls' Generation), Taemin (Shinee), Bora (Sistar), Hoya (Infinite), U-Kwon (Block B), Shownu (Monsta X), Ten (NCT), Jang Hyunseung, Feeldog (Bigstar) and Chungha (I.O.I).
We love Momo in the MV for "More & More"!