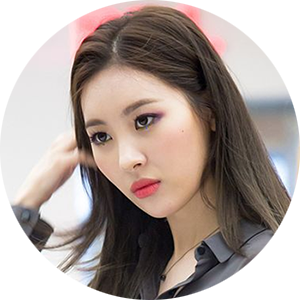 | | |
| --- | --- |
| Name | Lee Sunmi (이선미) |
| Position | Solo Artist / Former member of the Wonder Girls |
| Birthday | May 2, 1992 |
| Nationality | Korean |
| Zodiac Sign | Taurus / Monkey |
| Height | 166 cm |
| Weight | 43 kg |
| Blood Type | AB |
Life
Sunmi was born in Iksan, South Korea. She has a mother, a step-father and two younger brothers. Sunmi's nicknames are Mimi and Miya.
She grew up living with her sick dad and her brothers and became the head of her family, taking care of her siblings. Sunmi then decided to become a celebrity to be able to earn money at a young age and support her sick dad. Unfortunately though, her dad died three months before her debut.
She graduated from Hwangnam Elementary School, Chung Dam Middle School, Chung Dam High School and is currently enrolled in Dongguk University. Her major is musical theater.
Carreer
Sunmi became a trainee under JYP Entertainment when she was 14 years old and debuted with the girl group Wonder Girls in the year 2007. She took a break of her band activities in 2010 because she wanted to focus on her education. In 2013 Sunmi had her solo debut with the song "24 hours", which was very successful, and later returned as a Wonder Girls member in 2015. After the band officially disbanded in 2017, Sunmi left JYP Entertainment and came back as a successful solo artist under the label MakeUs Entertainment.
She can play the bass, which she showcased in the Wonder Girls' album "Reboot" and during performances. Sunmi also wrote several songs for the Wonder Girls and earned producer credits as well (e.g. for the hits "Why so lonely?" and "Siren").
Furthermore, songs like "Full Moon", "Gashina" and "Heroine" are part of her acknowledged solo career. Her latest Single "Lalalay", which was released in August 2019, has been successful as well.
Awards
She won the Mnet Asian Music Award "Best Dance Performance – Solo" for her solo song "Full Moon" in 2014 and the "Style in Music" Award in 2017. She also received the "Song of the Year" Award for her solo song "Gashina" in 2018 at the Gaon Chart Music Awards, the "Artist of the Year, Singer" and "Best Music" Award at the Asia Artist Awards in 2018 and the "Best Female Artist" Award at the Mnet Asian Music Awards in 2018.
Trivia
Sunmi is said to have a "4D" personality, which means she is very creative and might have unusual, but interesting reactions to various things and situations.
In the show "Weekly Idol" it's shown that her legs are 110 cm long.
She likes Drake and Robert Downey Jr. As artists.
We love Sunmi in the MV for "Full Moon"!