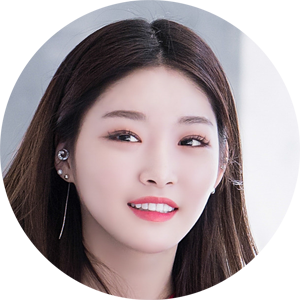 | | |
| --- | --- |
| Name | Kim Chanmi (김찬미) alias Chungha (청하), Annie Kim (English Name) |
| Position | Vocal |
| Birthday | February 9, 1996 |
| Nationality | Korean |
| Zodiac Sign | Aquarius / Pig |
| Height | 1,61 m |
| Weight | 45 kg |
| Blood Type | A |
Life
Chungha was born in Seoul, South Korea. Her family later moved to Dallas, Texas (USA), where she lived for about seven years. Therefore, she's fluent in Korean and English.
She is currently attending the Sejong University in Seoul, South Korea.
Career
Chungha practiced dancing for over six years before her debut. She auditioned for YG Entertainment but ultimately failed to pass. Later she auditioned for JYP Entertainment and became a trainee there but only stayed for a short period of time. She left the agency after her group broke up, which was her last hope to debut at that time.
She is now under M&H Entertainment, which was also her agency when she was participating in the music survival show "Produce 101" in 2016. She finished in fourth place and gained a lot of popularity and attention for her dancing skills. After promoting with the consequently founded group project "I.O.I", she was able to debut as a solo artist due to her huge success.
Personality
Chungha is a humble person, who tries to keep learning and improving her skills. When she met a fan in gaming center for the show "PC bang attack", she showed her caring and down to earth side.
Chungha is also very brave. During I.O.I.'s show "Ghost city", she was one of the members, who was not scared of visiting the haunted houses.
Chungha's nickname is "alcohol" because there is a brand in South Korea called "Chungha" as well.
Chungha as an Artist
Before her debut, Chungha was seen in Pentagon's MV for "Pretty Pretty". She is also close to Chan (Stray Kids) since she trained with him during her JYP trainee days.
The biggest successes of her solo career so far are hits like "Roller Coaster", "Gotta Go" and "Snapping".
She also sang a song for the OST of the drama "Strong Woman Do Bong Soon", which is titled "Pit a pat".
Furthermore, Chungha participated in the dance show "Hit the stage" in the episodes three, four and ten and showed her dancing skills. She competed against Hyoyeon (Girls' Generation), Jang Hyunseung, Hoya (Infinite), U-Kwon (Block B), Feeldog (Bigstar), Momo (Twice), Ten (NCT), Yugyeom (Got7) and Shownu (Monsta X).
Since August 2018 Chungha is an ambassador for the Korean beauty brand "Shiseido".
Chungha was collaborating with Seulgi (Red Velvet), Sinbi (Gfriend) and Soyeon (G-idle) for a SM Station X project. In 2018 they released the song "Wow Thing".
Her latest single is "Stay Tonight", which was released in April 2020.
We love Chungha in the MV for "Gotta Go (벌써 12시)"!