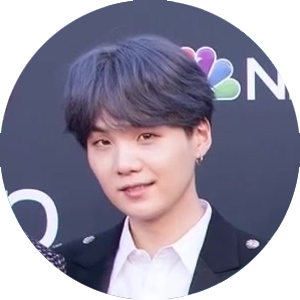 | | |
| --- | --- |
| Name | Min Yoongi (민윤기) alias Suga (슈가) |
| Position | Lead Rapper |
| Birthday | 09. March 1993 |
| Nationality | Korean |
| Zodiac Sign | Pisces / Rooster |
| Height | 1.74 - 1.76 m |
| Weight | 59 kg |
| Blood Type | O |
Life
Suga was born in Daegu and has an older brother. He still speaks in a Satoori accent when he gets nervous. He says he is from a poor family and was in an accident while working as a food delivery person on his bike.
Suga is producing music since the age of 13 and decided to become a rapper after listening to the song 'Fly' by Epik High. Suga was part of the underground band 'D-Town'. His artist name was 'Gloss' because this is the English translation for Yoongi (his birth name).
He studies Liberal Arts (Bachelor) at the Global Cyber University.
Hobbies
He loves to play Basketball. Before his debut, he played it every Sunday. He also likes to read comics and to play video games.
Suga also loves to sleep and earned the nickname "Motionless Min", because he wouldn't move on free days and doesn't have to. He wrote a profile by himself saying he loves sleeping, quiet places and places with no people.
Personality
Suga was given his name by the CEO because he liked his sweet smile. But Suga can be very straightforward and likes to scold the younger members, who like to call him grandfather because of that.
He is also known for repairing things, which were destroyed by RM accidentally.
Suga as Artist
Suga is writing whenever he has time. He also produced songs for other artists, as he did with Suran's song "Wine", which was very successful. When Suga is working outside of his group, he uses the name "August D". The meaning is a combination of his name Suga spelled backward and "DT" as acronyms for his hometown Daegu Town (spelled backward again). Suga released a mixtape under the name of August D, which he wrote the lyrics for and produced himself. In 2020 Suga realeased '대취타'/ D-2 as August D and was collaborating with the famous Korean artist IU for the song "eight".
Suga also shared his dream of becoming a Radio DJ, which might become true in future regarding other idols working as Radio DJs as well, like Sunny (Girls Generation).
Suga made the character "Shooky" for BT21, which is (not) a cookie and declared milk its enemy.
We love August D's '대취타' showcasing Suga's amazing Rap skills!