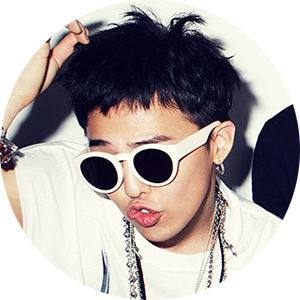 | | |
| --- | --- |
| Name | Kwon Jiyong (권지용) alias G-Dragon (지드래곤) aka GD |
| Position | Leader |
| Birthday | 18. August 1988 |
| Nationality | Korean |
| Zodiac Sign | Leo / Dragon |
| Height | 177 cm |
| Weight | 58 kg |
| Blood Type | A |
Life
G-Dragon was born in the capital of South Korea, Seoul. He has an older sister, who is called Dami.
He has two dogs, who are called Gaho and Jolie and are Sharpei dogs.
G-Dragon majored in Post Modern Music at Kyung-Hee University in Seoul.
Carreer
G-Dragon was active since a young child. He had his first TV appearance in a children program "Bbo Bbo Bbo" and became a member of the group "Little Roora" when he was only seven years old.
He then joined SM Entertainment and practiced there for five years before becoming a YG Entertainment trainee when he was 12 years old.
G-Dragon originally trained six years with Taeyang to debut as a duo, but the other three members were added and he debuted as the leader of Big Bang in 2006.
Personality
G-Dragon is very expressive and has a great stage presence but he is very shy in private.
He is very artistic and has a lot of changes in his hairstyle. He has a lot of tattoos as well.
He would have liked to become a fashion designer if he wasn't active as a singer since he has a lot of interest in fashion.
G-Dragon and other Idols
First to mention are his relationships to his group members. G-Dragon spent a lot of time with Taeyang since they trained six years together to become a duo. But he also knows T.O.P. since his childhood.
They shared several stories on many occasions that he is very strict to his fellow member Seungri.
G-Dragon also knows Kangin (Super Junior) since his childhood.
His best friend was JunK (2PM) during his trainee days.
G-Dragon as an Artist
G-Dragon wrote and composed many Big Bang songs. He is the idol, who has the most song royalties for his composed songs. Some people, therefore, consider him the king of KPop.
He had his solo debut in 2009. His debut album was called "Heartbreaker" and earned him several prizes such as the "Mnet Asian Music Award" in 2009.
G-Dragon is also busy in the fashion world. He is the Chanel ambassador in South Korea. He is also the face of the YG Entertainment beauty brand Moonshot Korea.
Unfortunately, G-Dragon was caught in some scandals concerning Marijuana and his alleged girlfriends.
He is currently on a hiatus since he enlisted in the Korean army in 2018 and will probably be released in October 2019.
We love G-Dragon in the MV for "Haru Haru" for his great acting and rapping!